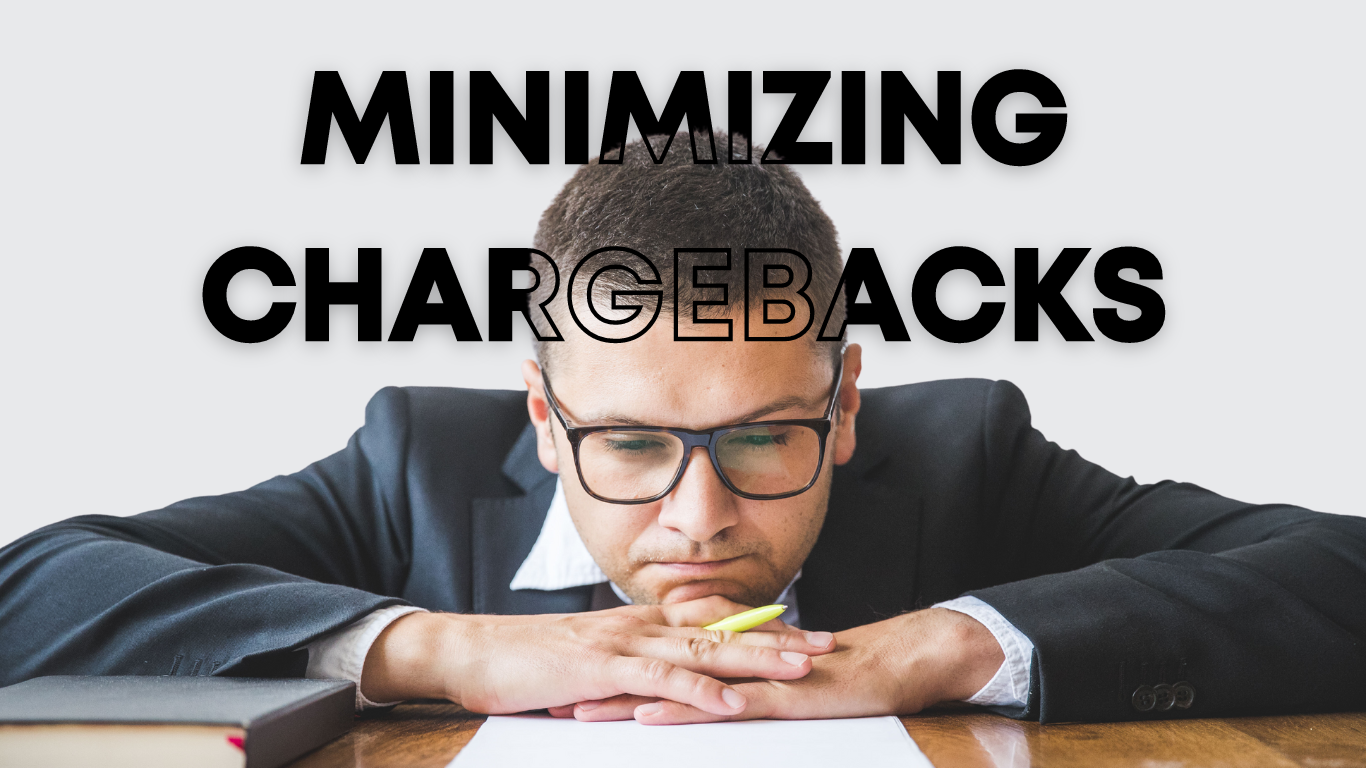 Minimize Chargebacks: Strategies for eCommerce Businesses
Minimize chargebacks: strategies for eCommerce businesses. As an eCommerce business, navigating the complex world of card processing can be daunting. With transactions happening online and the potential for incomplete or inaccurate card data, card processors may be hesitant to approve your transactions. The pressing concern that drives their caution is chargebacks. How to avoid it, how to minimize chargebacks, or whatnot.
Chargebacks occur when cardholders or card issuers file disputes over charges directly with the bank. Which at this point, bypasses communication with the business. On the negative side, these disputes can lead to financial losses for the business. Nevertheless, even if they are contested successfully. In some cases, businesses may end up giving away their products or services for free. As a result, it will have a significant impact on their bottom line.
Therefore to address this critical issue and maintain a strong relationship with card processors, Dennis Walsh, an experienced attorney, and businessman in Arizona, has shared valuable insights and steps to minimize chargebacks. By implementing the following strategies, eCommerce businesses can protect their revenue and maintain a positive reputation:
Unambiguous UI for Policy Acknowledgment
The most important part is the UI acknowledging the policy. Implement a pre-submit checkbox that states, "By checking this box, you [acknowledge/accept] that… [policy or link to policy]." With that being said, the straightforward acknowledgment mechanism ensures that customers are well-informed before proceeding with their transactions.
Clear, Concise, and Transparent Policies
Craft a policy that leaves no room for misinterpretation. In this case, consider seeking feedback from friends and colleagues to ensure its clarity. Hence, if multiple individuals can correctly comprehend its implications, you're on the right track. Most importantly, transparency is the key here. Present your policy in a straightforward, plainly written, and concise manner, giving customers full insight into what they are agreeing to.
The Power of a Well-Crafted Response Template
On the positive side, having a well-structured response template is essential for effective dispute resolution. Your template should consist of four sections:
a. Stipulated Facts: Begin with explicit statements that both you and the customer agree upon, such as the date of the charge, the provided policy, and the customer's acknowledgment of it.
b. Factual Background: Provide relevant excerpts from the agreement and attach the full agreement to your response. Include screenshots of the UI that the customer accepted and demonstrate how they agreed to it.
c. Rationale for Merchant Dispute: Clearly articulate how the chargeback has harmed your business. Explain the importance of the policy in safeguarding your business against economic loss and how the customer's chargeback constitutes a breach of your agreement.
d. Requested Outcome: Summarize the reasons for reversal in a concise manner. Restate your key points, such as the customer's unambiguous agreement to a non-refundable service and the successful fulfillment of the entire contracted service.
Furthermore, by following this formula many businesses have achieved an impressive win rate of over 80% in chargeback disputes. Hence, utilizing these strategies can significantly improve your chances of success and safeguard your business from chargeback-related losses.
In conclusion, mastering the art of how you can minimize chargebacks requires a combination of intuitive UI design, crystal-clear policies, and a well-crafted response template. By proactively addressing concerns, you can protect your revenue, maintain a positive reputation, and thrive in the competitive world of eCommerce. And most importantly, minimize chargebacks.
To further support you in your battle to minimize chargebacks, partnering with a reliable merchant services provider like Southwest Merchant Services is crucial. Their comprehensive range of merchant services, including secure payment processing and fraud prevention, ensures your customers' data remains safe, and your transactions run seamlessly.
Southwest Merchant Services understands the unique challenges faced by eCommerce businesses and is committed to empowering businesses like yours. Together, we can win the chargeback battle and ensure your business continues to flourish.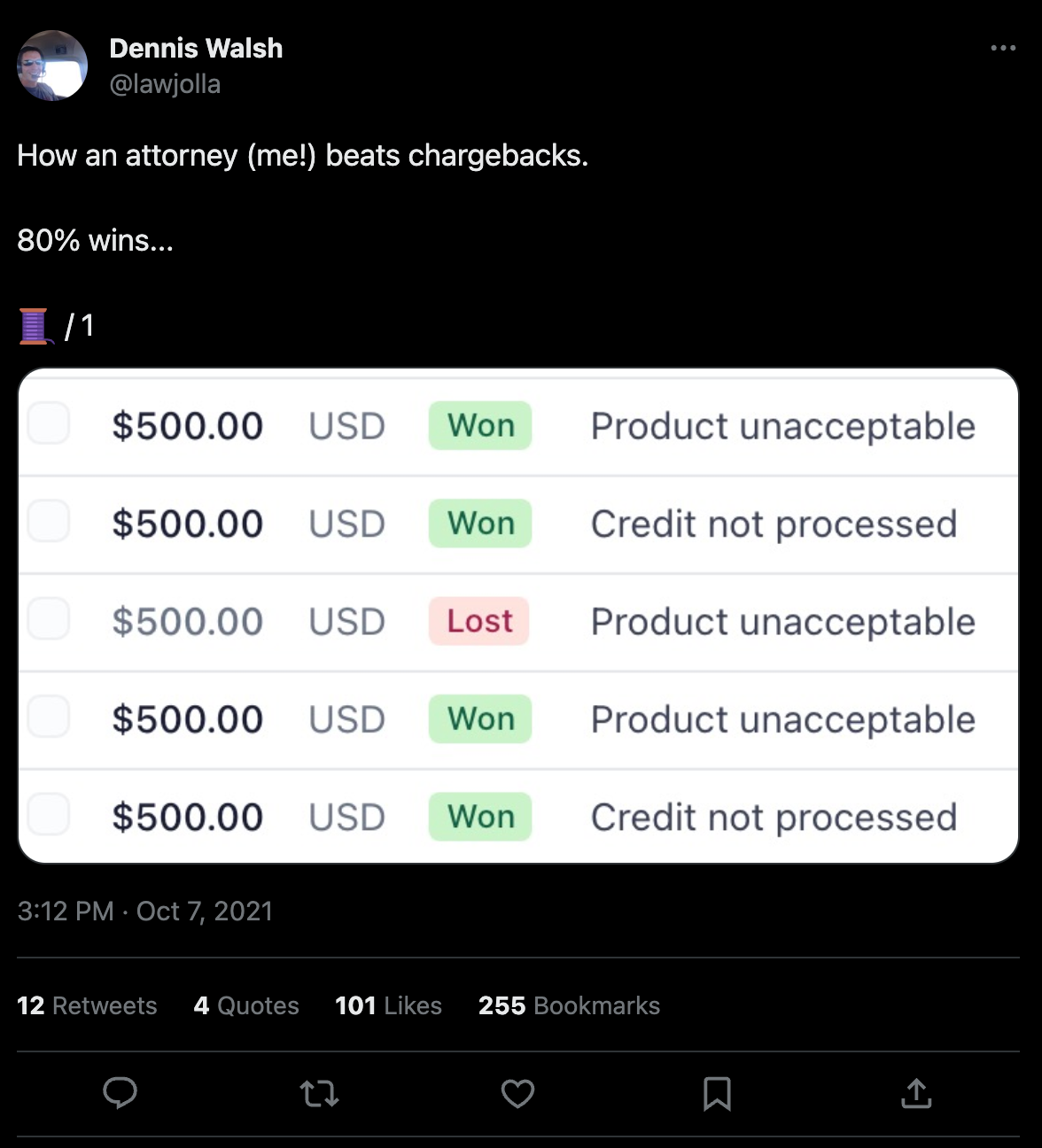 Check out the thread HERE and follow Dennis Walsh @lawjolla on X (nee Twitter). Keep up with us on social media and follow our Instagram and TikTok accounts for more tips and updates on the industry!
Special Acknowledgment:
Thanks to Daniel Walsh for letting us unroll these and be posted to our blog. We greatly appreciate his valuable insights and expertise in chargeback defense, which have been instrumental in helping eCommerce businesses navigate this challenging landscape.
Want to get a customized solution for your business? Book your consultation at Southwest Merchant Services now!
Schedule Your Initial Consultation
"Very Satisfied"
Having just set up our account, I found the help and service exceptional. One often hears of the uncaring bank personal that hides behind voice mail and seldom returns calls, our experience was the opposite. Start to finish 4 days from when I talked with Andy to arrange credit card processing to everything from Southwest Merchant Services being set up. Very satisfied.
more payment processing solutions
Discover Your Options
In the world of business, a merchant account is your gateway to seamless payment processing. Find out why it's a game-changer, offering security, customer satisfaction, and better money management. Choose your provider wisely and unlock the potential of your business.

The journey from clunky cash registers to sleek Point of Sale (POS) systems is remarkable. This blog delves into the history of payment systems and technology, the importance of keeping up with evolving payment technology, and factors to consider when choosing a POS system. Explore the future of payment technology and enhance your payment solutions with Southwest Merchant Services.