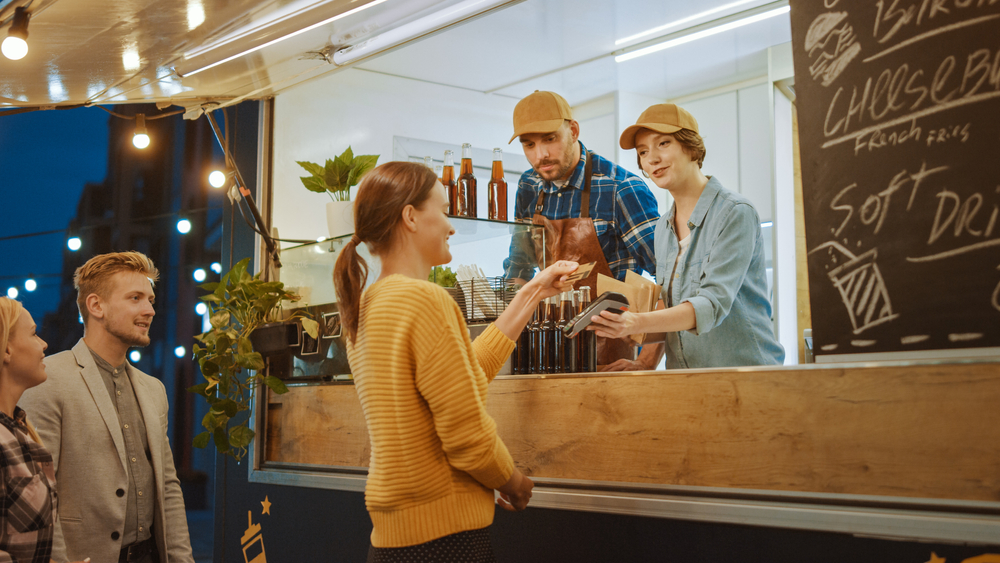 Why Food Truck Owners Need a POS System
The summer is finally here, which means it's the season for food trucks to roll out. In recent years, the United States has seen an exponential rise in the number of food trucks. In just two years, we've seen that number grow from 24,000 to 35,000. California leads the country with the most food trucks and is followed by Texas and Florida. Although the industry is growing, it is reported that only 40% of food truck businesses stay afloat after three years. Most food truck closures are attributed to inadequate planning and budgeting issues. If you're thinking of starting your own food truck business or currently own one and are looking for ways to aid in your business's success, consider implementing a point of sale (POS) system. Our latest blog goes over why food truck owners need a POS system.  
1. Expand your customer base with a POS System
Cash, what is it? Due to technological advances from physical cards to digital payment methods, customers rarely carry cash these days. And what's disappointing is that many businesses have yet to pivot their business to a more technology-friendly one. POS systems allow you to expand your customer base from cash to card and digital paying customers. The greater your customer base, the greater the potential for a boost in sales. 
2. Money Tracking & Sales Breakdown with a POS System
Like, any food industry business running a food truck can be chaotic and stressful, from taking orders to receiving and storing payment details, fulfilling orders, and serving customers. POS systems help food truck owners obtain, organize, and generate reports, including a breakdown of sales by item, date, time, and location. Having a detailed account of your business can help you pinpoint what you are doing well and what needs improvement. For instance, it can generate insight into the most popular items on your menu and what is not as popular. In short, a secured POS system will allow you to worry less about the details during operation so you can focus on serving your customers and give you insight so you can better serve them.
3. Greater Inventory Control with a POS System
As with tracking customer data, POS systems have inventory management features that allow business owners to keep track of their inventory. Depending on how you set up your system, you can set up alerts notifying you when you're running low on items and even have it re-order items for you. Having this account on your needs can help you stay on top of your business and your customer's expectations. 
4. Efficiency & Accuracy with a POS System
POS systems dramatically make the order-processing system smoother and reduce the risk of mistaken orders by a margin. With a simple tap, orders can be taken and recorded with efficiency and accuracy. There's no need to risk a wrong order and longer wait times by trying to write orders down or by making mental notes. Enhanced efficiency and accuracy will compliment your products like no other, ensuring ultimate customer satisfaction. 
Want to know more about POS Systems? 
Southwest Merchant Services comprises a team of experts committed to providing business owners like you the means to run a successful business. With technological advances such as POS systems, there's no need to stay or revert to archaic business practices. If you made it to the bottom of our blog and want to know more about POS systems and what they can do for your food truck business, please feel free to reach out. Give us a call at (619) 251-8000 today!
Schedule Your Initial Consultation
"Very Satisfied"
Having just set up our account, I found the help and service exceptional. One often hears of the uncaring bank personal that hides behind voice mail and seldom returns calls, our experience was the opposite. Start to finish 4 days from when I talked with Andy to arrange credit card processing to everything from Southwest Merchant Services being set up. Very satisfied.
more payment processing solutions
Discover Your Options
While they may appear to address the banking challenges faced by cannabis entrepreneurs, it is crucial to approach them with caution. This blog delves into the risks associated with cashless ATMs and provides a detailed due diligence guide to safeguard your dispensary's operations.

Shield your business from chargebacks and fraudulent transactions with Southwest Merchant Service. Discover effective strategies to prevent financial setbacks and maintain customer trust.